Your Dilemma
Often, especially as parents with young kids, it's easy to feel disconnected from or a little "off" with your partner. Maybe you've had a long and stressful work week. Maybe the kids have been extra clingy, and you've failed to have alone time together for a while. Maybe one of you has been sick. Whatever the reason, you're feeling that deep NEED to spend some one-on-one intentional quality time with your partner. And if you can't find a sitter or paying for one is not in the budget for those little precious loves of yours (AKA: the kids), don't let that stop you from dating your partner!
Your Date At Home
When your mind, body, and heart are telling you that you need some attention and TLC with your companion, don't let anything get in the way of making it happen. Let's chat today about how to date at home when getting out of the house just isn't in the cards.
The Setup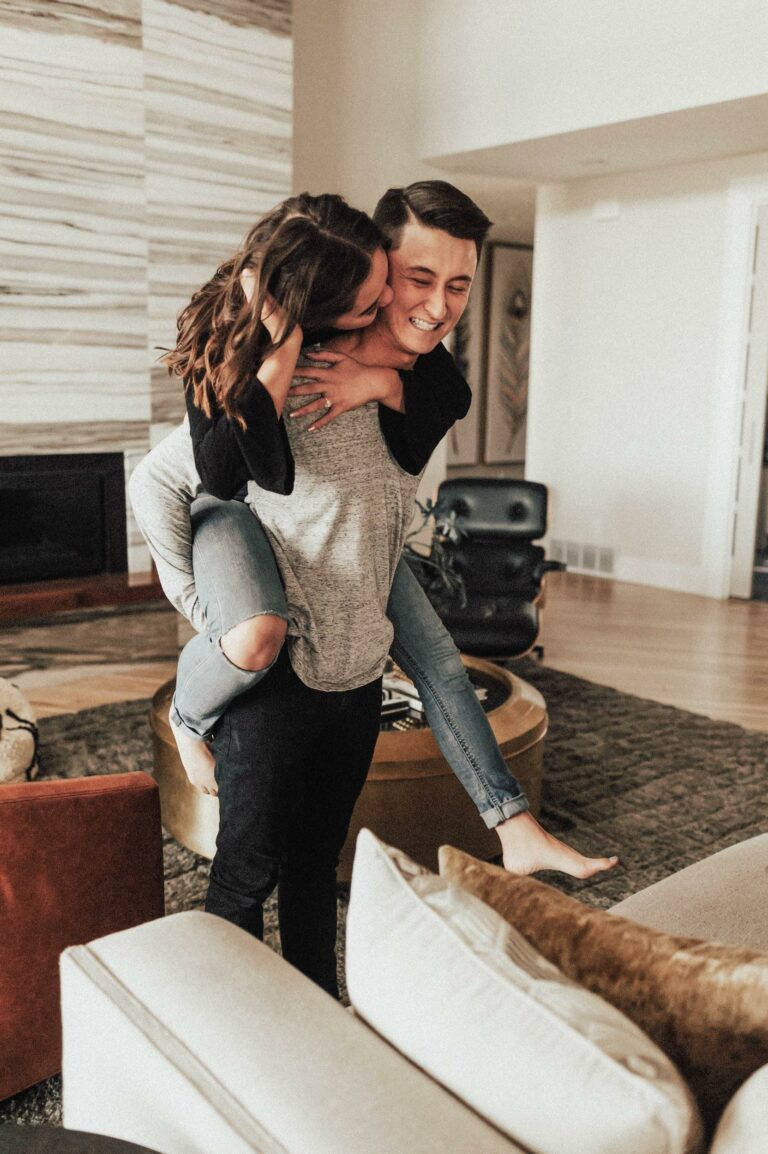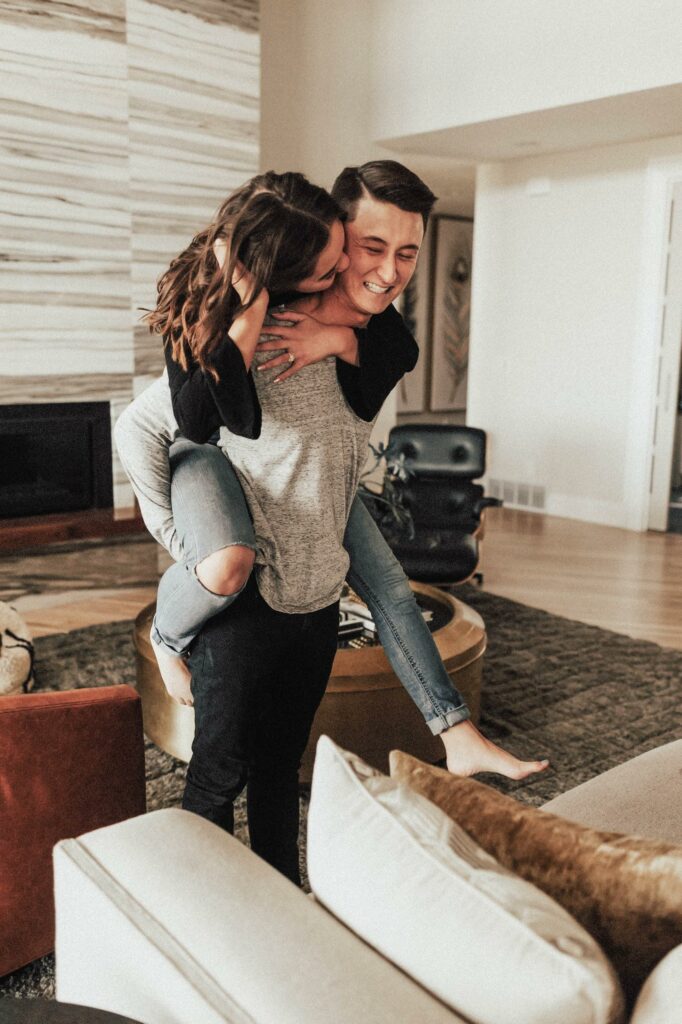 As with any date, planning is essential in making this particular date successful. We all know that busy parents rarely get to the "Optional" part of their "To-Do List." First and foremost, make your date at home the priority. Pick a night that you're going to have your date. Try and choose a night that is not preceded by a packed full day on the calendar. Make the commitment to each other to make it happen.
You can even get the kids involved by talking about your date with them through the week. "Mommy and Daddy can't wait for Friday night. We have a special night planned for everyone!" Or "Daddy and Papa are looking forward to Saturday. We're going to have a date right here at home! And we're probably going to kiss!" When we're playful with our kids, and they feel more involved in the planning, they're more prepared to go along with the night!
What To Do With the Kids During Your Date at Home
Since we're on the subject, let's talk about what the kids will be doing during your date! You have a couple of options, and either will work. The first is to plan your date during bedtime. If your kids are on a great schedule and you know that they will be in bed at 8 pm, then plan your date for after bedtime.
The second option is to plan a special night for the kids so they are entertained during your date. The easiest and most dependable option here is to plan a movie night. If you do it right, you'll get close to two hours for your date! Once again, get the kids involved in the planning.
The more involved they are planning their night, the more invested they will be in enjoying it. Pick a movie earlier in the week. Talk about it daily. Build it up! Pick up some of their favorite movie candy at the store. Set up a comfy area to enjoy the movie from. Maybe even let them have popcorn, even if you usually have a "no food on the couch" rule. Helping them feel like it's an extra special experience will help keep them invested in their experience.
Date at Home Ideas
It's always preferred to plan your date ahead of time. Having everything ready to go ensures you can make the most of your time together. If you're wanting a more unique idea than cooking dinner together or enjoying a movie night, here are a few ideas for your at home date to get you started!
Charcuterie board and game night – This is about trying new foods, using your creativity to create an easy to enjoy and visually pleasing meal, and experiencing the competition or laughter of a game. Some quick, easy, and great games to play as a couple are Sequence, MasterMind, Ticket to Ride, Chess, or Qwirkle.
Go to the game! – Plan your date around a sports event you want to watch together. Try to match your experience with what you would do if you were in the arena or ball-field. Enjoy hotdogs, popcorn, soda or your favorite draft beer, icecream, etc. Don't forget to wear your jerseys to support your favorite team!
Back yard date – Set up your yard for an evening of fun. Grill together. Play cornhole or frisbee while the food cooks. Start a fire and cozy up together with a glass of wine or sparkling grape juice. Use what you have available in your yard to set up your own personal and unique date.
Pamper each other – Plan to give each other massages. Pick up a new body oil or lotion to use to make it feel a little more special. Put on some music and light a few candles to really create a relaxing environment. The massage could be a foot rub, a full-body massage, a shoulders and neck massage – whatever you're needing and wanting from this date! Ask your partner in advance and make a plan so you both have something to look forward to as well.
Your Date at Home
Once you have the kids settled, it's time for your date! The more you have prepared in advance of the date, the easier it will be to take advantage of the time you have sans kids. If you're going to eat, cook dinner before so you can sit down and get into your date right away. If you're going to have a more romantic night, set out the candles and anything else you need. Take the time to get yourself dressed and "done up" before your date starts. Doing everything you normally do before a date out will help assist in making this experience a fantastic date, too!
We know it's not easy to "turn off" parent-mode, especially when the kids are in the next room over, but just try it out for this date! Interruptions may happen, but if you're committed to taking advantage of any time you've made together, you're going to feel some positive outcomes in your relationship!
Whatever you've chosen to do for your date, there is always one goal to keep in mind. The purpose of dating is to grow your relationship. You're nurturing it, tending to it, and helping it flourish. One of the best ways to grow your relationship is to be intentional during your time together. What this really means is no matter what your date is, your focus is on being present. Soak in each moment. Notice what you're thinking and feeling. Be aware of how you're choosing to share your love with your partner. Acknowledge how your partner is choosing to share their love with you. Take advantage of every second together.
Being intentional has the intense ability to heighten your experiences during your date so much! Being intentional also takes so much practice. As you're on your date, make a conscious effort to notice your patterns of thoughts and actions. Always remember, it's a gift to yourself to be able to share your love with your partner. And it's your partner's gift to share their love with you.
How did your date at home go? What worked well for you? What would you do differently next time? Leave a comment and share with our community! And sign-up for our newsletter to receive advice straight in your inbox.